Cream of Nothing Condensed Soup
As you may have read, we were recently gifted a
freezer
. Since then, I have been working hard to fill it up. Hopefully, this will allow us to eat real food during busy/stressful/lazy times. We should also be able to save some $$ because we won't have to buy as many expensive premade items and we can buy in larger quantities at lower prices.
One of the newest additions to the freezer is Cream of Nothing Condensed Soup. You know all those recipes that call for a can of Cream of Chicken Soup or Cream of Mushroom Soup? Most of them work really really well with leftovers, and can be premade earlier in the day and thrown in the oven later. I always stumble upon them when I am looking for quick, easy recipes. Unfortunately, we don't really keep that in the house and I am not one to run to the store for ONE thing. Especially when that thing had ingredients I'm not all that excited about.
Ingredients in Campbell's Cream of Chicken Soup:
Chicken Stock
Chicken Fat
Modified Food Starch
Wheat Flour
Cooked Chicken Meat
Cream (Milk)
Water
Salt
Cooked Mechanically Separated Chicken
Margarine (Corn, Cottonseed, Canola , ( Soybean Oil , Water , Beta Carotene (For Color))
Contains Less Than 1% of:
Dried Whey (Milk)
Soy Protein Concentrate
Monosodium Glutamate
Yeast Extract
Flavoring
Vegetable Oil
Soy Protein Isolate
Sodium Phosphates
Autolyzed Yeast Extract
Chicken Flavor (Chicken Stock , Chicken Powder , Chicken Fat)
Spice Extract
Partially Hydrogenated Soybean and Cottonseed Oil
Butter (Milk)
WHEW! Not only is that list extensive, but what do YOU think the odds are that the Chicken products are from healthy, happy chickens? You know...chickens that ate bugs, had space to frolic in, knew what dirt and plants were? And the chicken stock, it was probably a nourishing bone broth made from said happy chicken, right?
Yeah....
My cream of nothing soups have less ingredients for a few reasons.
One- The don't need MSG to taste like meat because they have actual flavorful meat in them.
Two- I don't have most of those ingredients
Three- I didn't season them yet. Depending on the recipe they will be used for, I can season them (and add the chicken, mushroom, broccoli, whatever) when they are being used. I always have a variety of spices available, and this makes it easier to make it in large batches.
Okay. On to the recipe (and the photos, of course)!
First, I chopped up 2 T of butter and let it melt.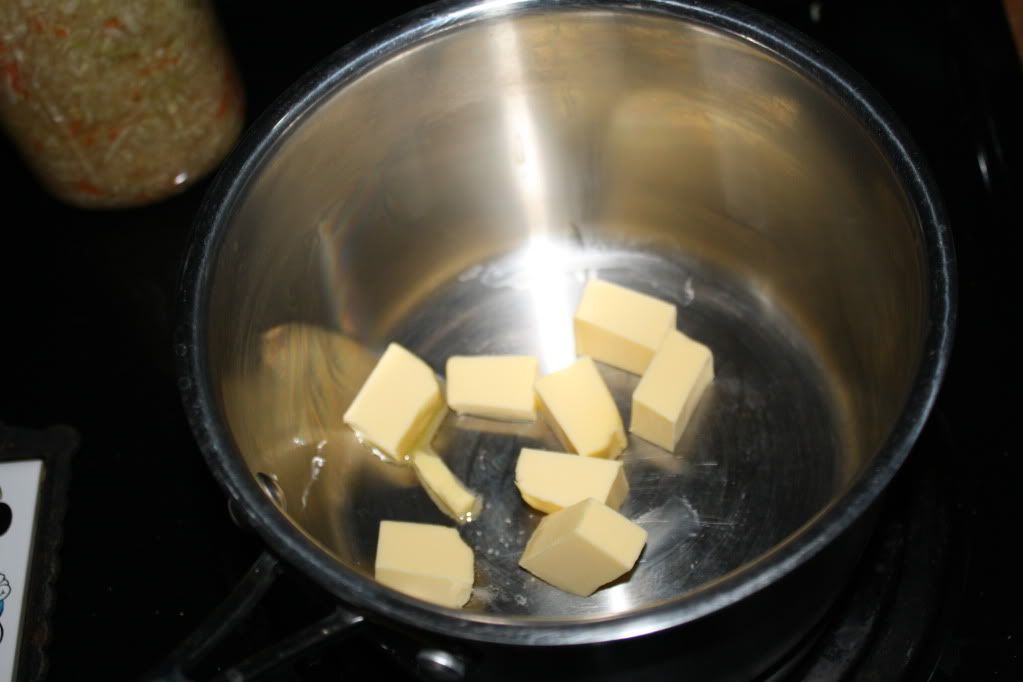 Then, I slowly whisked in about 6 T of whole wheat pastry flour until the butter was thick.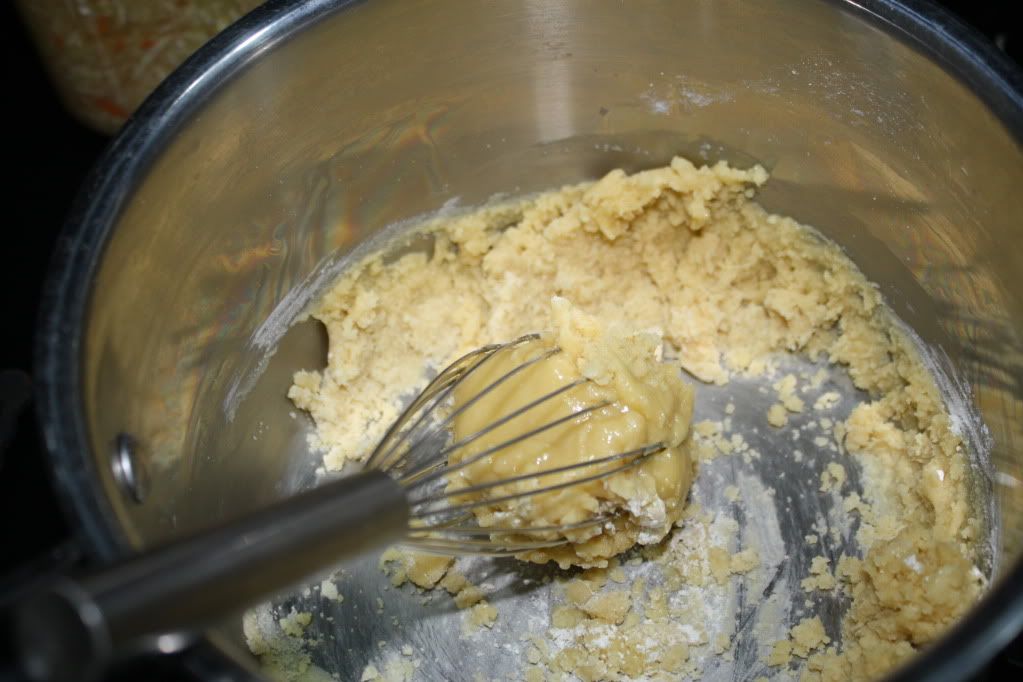 Next, I poured in 1 cup of my
chicken broth
and 1 cup of whole milk. I used the gently pasteurized un-homogenized milk as opposed to the raw milk because it was being boiled. Why waste the good stuff?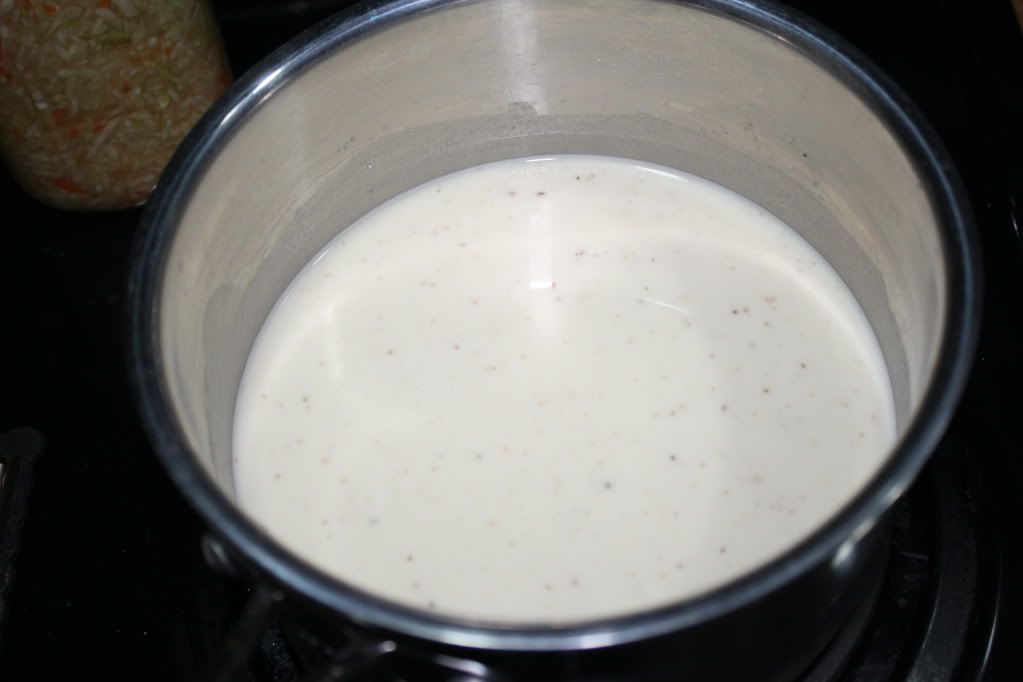 I let it gently boil until it was very thick.
When it was ready, it was poured into jars, 15.5 ounces at a time. I know that sounds like an odd number, but that is the size of the little cans.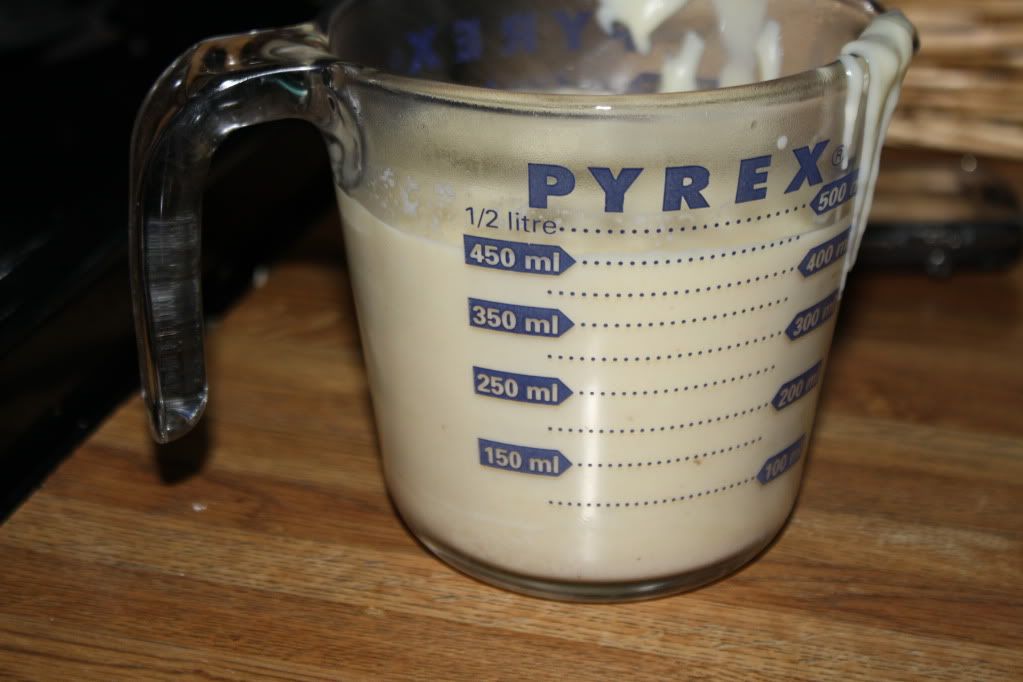 Now I can use this in any recipe that calls for a "can of cream of whatever soup" and know that I made it and it has a grand total of 4 ingredients, all of which I enjoy.
This post was part of an awesome series called
Baby Steps to A Rockin' Life, hosted at A Moderate Life
. Check it out for more great ideas!
This post was featured on
Monday Mania at The Healthy Home Economist
,
Simple Lives Thursday at GNOWFGLINS
, and
The Hearth and Soul Bloghop
!